Originally scheduled as the opening performance for the 2021 Taiwan Lantern Festival at Hsinchu, the show was eventually postponed due to the pandemic, and was therefore streamed live online. iF+ and Muzixiii Studio designed the multi-media amphitheater projection staged in front of the giant rice vermicelli rack screen designed by Architect Kan Ming-Yuan at Yin Hsi Gate, the East Gate with almost 200 years of history.
Worship of Heaven
Hsinchu street scenes are shown in neon lights at night. It expresses that Hsinchu is sending prayers with the world through online technology.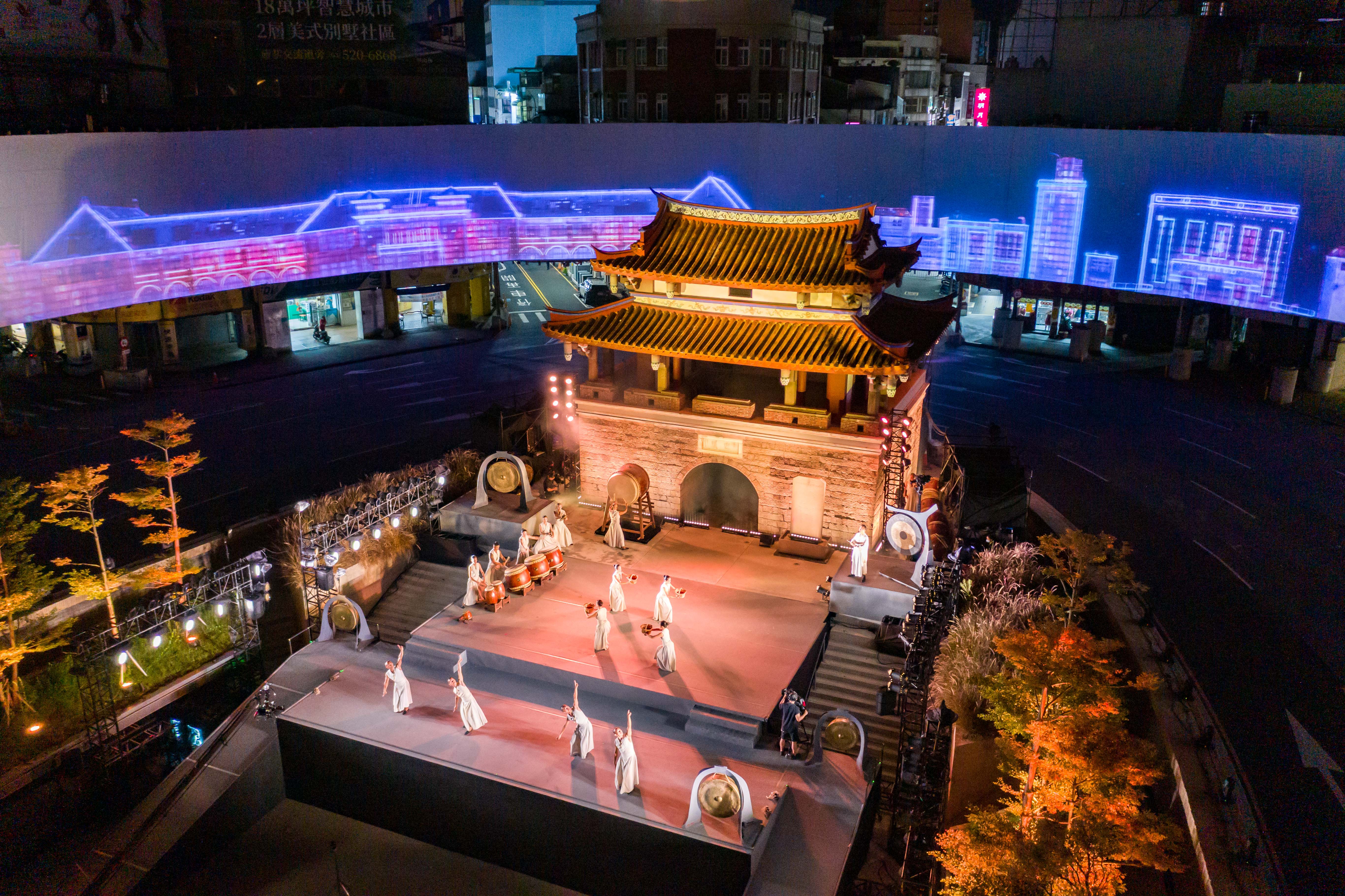 Energy of Hsinchu
The video starts with a more realistic side of the natural force. As the camera passes through the greenery, people can feel the waves of light simmering through the clouds alongside the sound of drum beats. The second act is Wind Surges in the Future. The body movements from U-Theatre's performers were captured and recorded in the green room. Particles are converged into two different colors moving in the air alongside their movements, drumming up technology vibes. The performance goes into Splendid Dream subsequently, which brings out the cityscape of Hsinchu in horizontal composition. The color block represents Hsinchu's energy. At the last act The Tidal Waves of Light, waves of neon light surges towards the East Gate roundabout, and Hsinchu's night scene is also bouncing and flowing along the passionate drumming, making people excited and feel the pulse of hope.
The show was hosted by Mickey Huang and live-streamed on Hsinchu Mayor Lin Chih-Chien's Facebook page. President Tsai Ying Wen also gave blessings on the night. The show has reached 180,000 views so far, indicating this is a new way to bring art back to our daily life.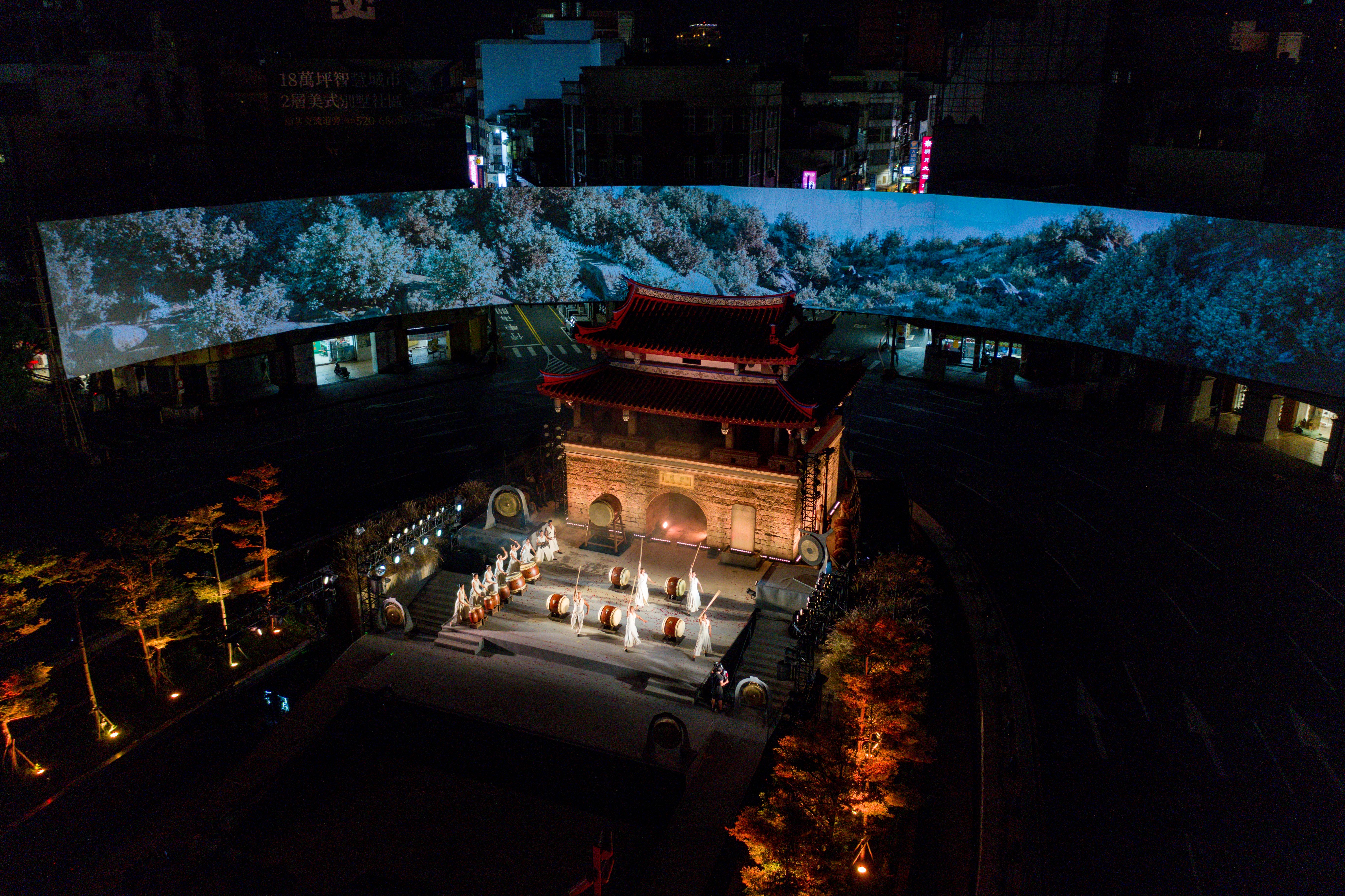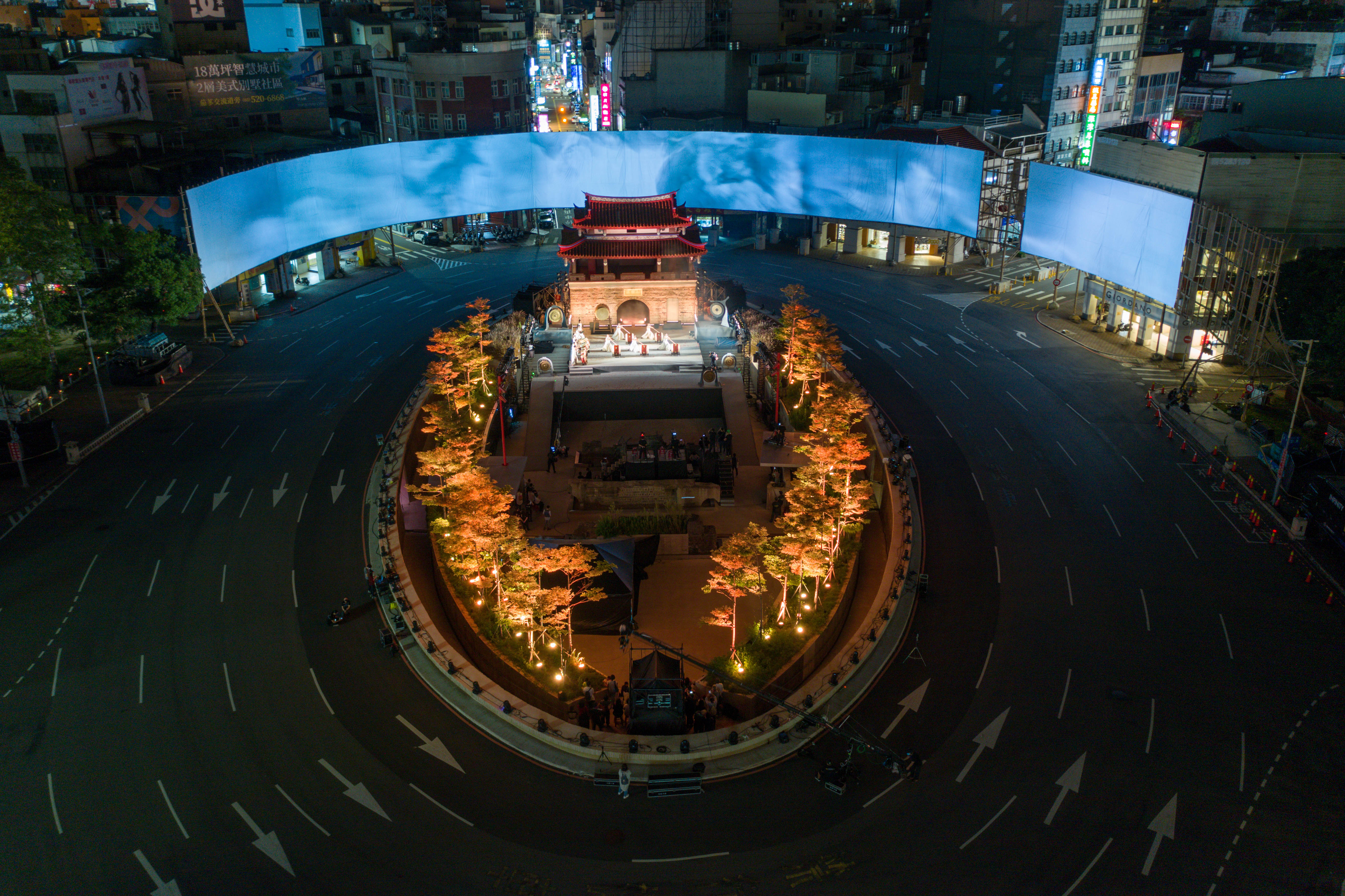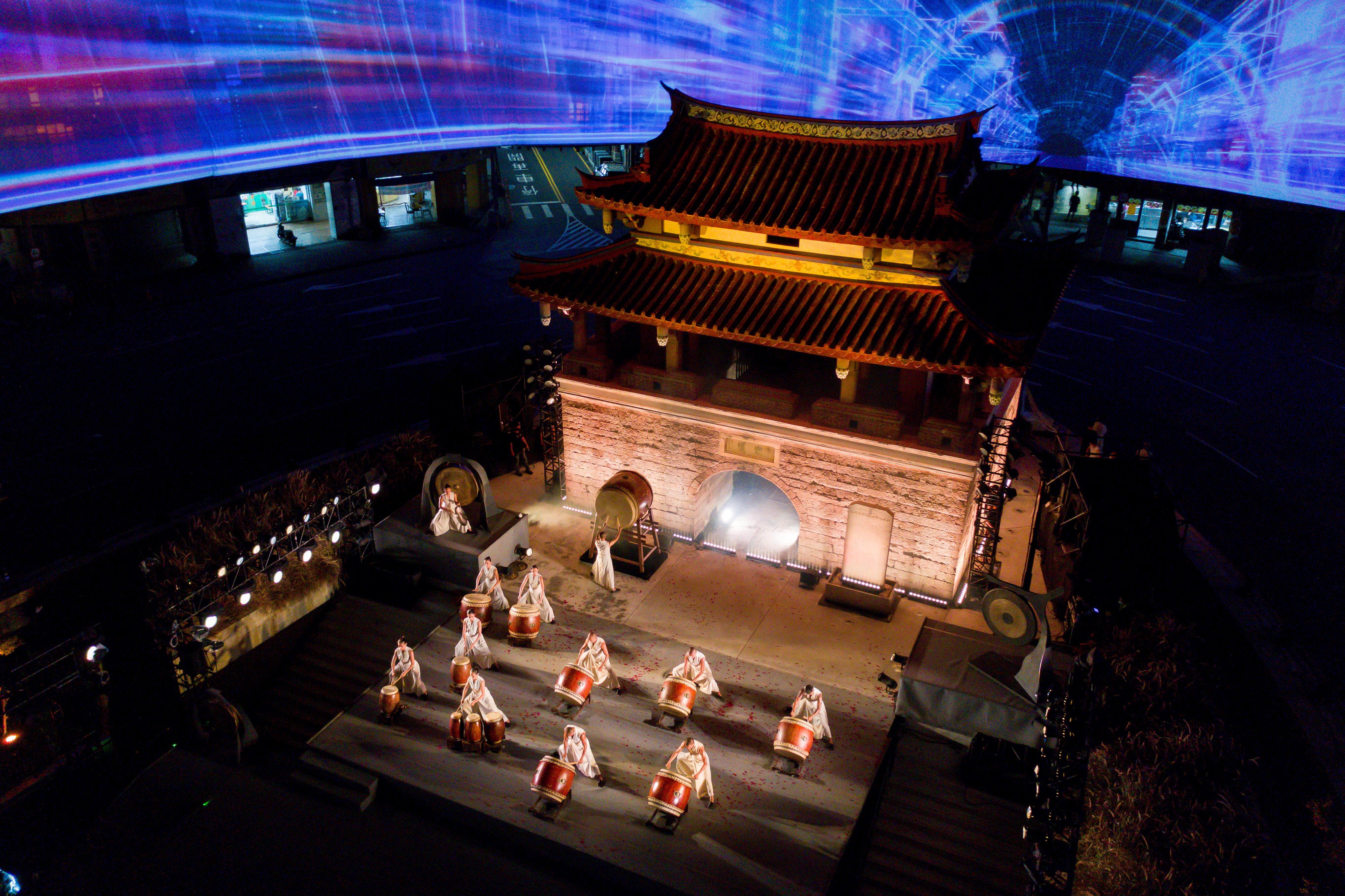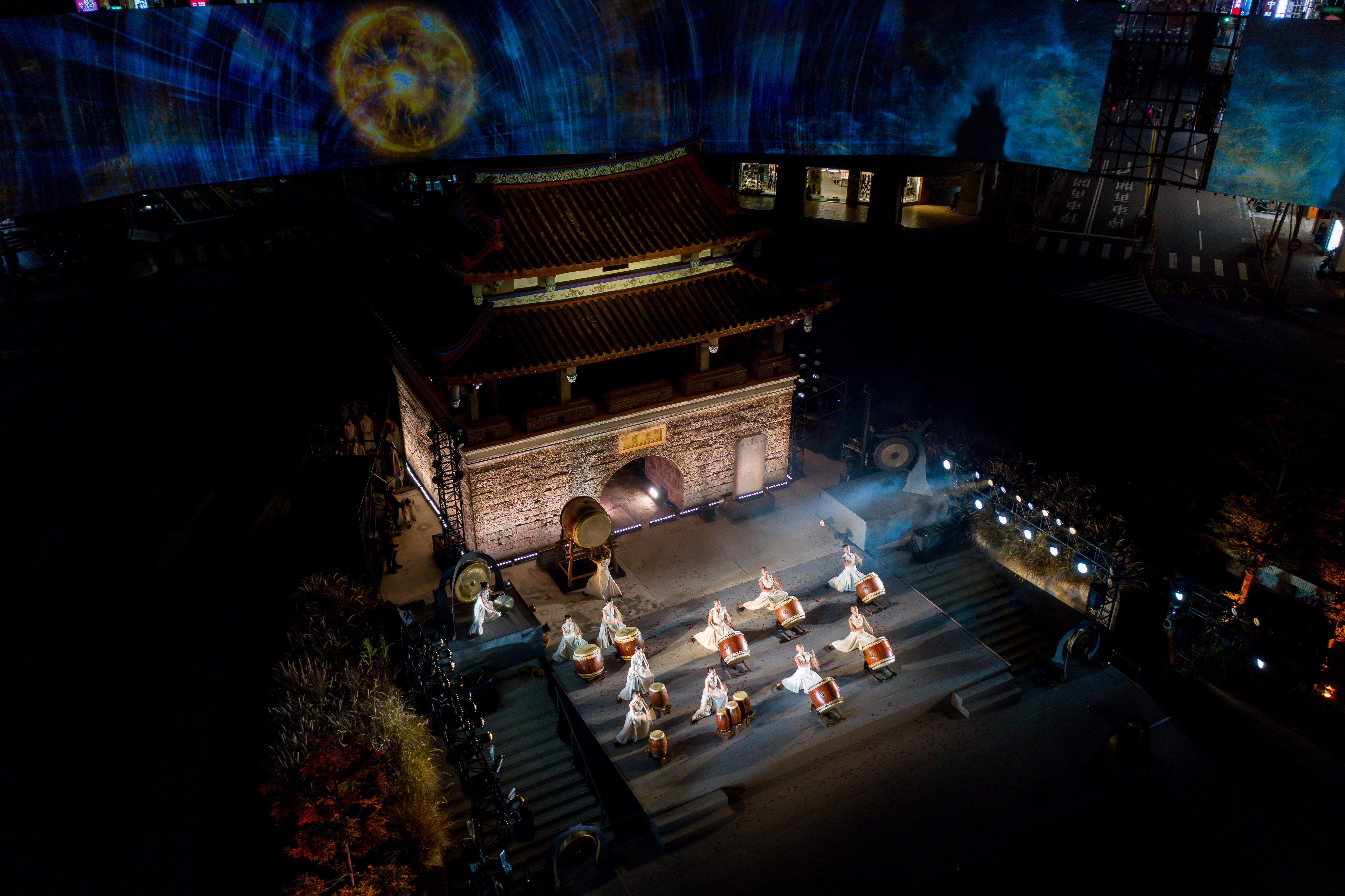 Host: Hsinchu City Government
Production: Interplan International Corp.
Director: Samuel Wang
Performance Advisor: Liu Ruo-Yu (founder of U-Theatre) and Huang Chih-Chun (Artistic Director of U-Theatre)
Performed by: U-Theatre
Video Planning Team: iF+
Creative Director: Wang Po-Yu
Strategic Director: Jet Chou
Storyboard Planning: Wang Po-Yu
Project Management: Kan Tien, Ya-Ting Judy Chan
Motion Capture System: Axis 3D Technology, Inc.
Video Production Team: Muzixiii Studio
Animation Director: Amber Lee, Ray Tsao
Storyboard: Kuan-Yi Lee
3D Animation: Che-Hsuan Tsao, Lin Yi-Ting, Tom Yi, Ying-Sheng Liu, Chun-Chin Kao
CGI: Bang-Wei Cheng, Lin Yi-Ting
ONLINE media |
udn | 新竹光臨藝術節光之島明晚登場 優人神鼓「祭天」祈福
ETtoday | 「新竹光臨藝術節」周日登場 林智堅化身主祭《祭天》祈願